About Querying the NPDB
Querying the NPDB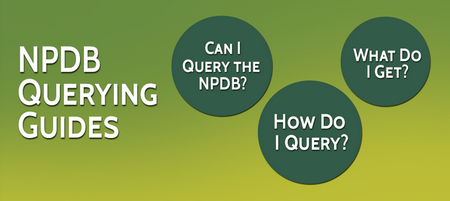 A query is a search for information in the NPDB regarding a health care practitioner or organization. The NPDB collects information on medical malpractice payments and certain adverse actions through reports submitted by entities eligible to report. This information is disclosed to entities eligible to query. Organizations must be registered with the NPDB and authorized to query for NPDB information. The ability of an organization to query, and the types of NPDB information they may receive through querying, is determined by law. When an entity submits a query, the NPDB only releases the information they are lawfully allowed to access, based on their NPDB registration.
How to Query
Organizations can request a query online though the NPDB website, or through external systems using the NPDB's Querying and Reporting XML Service (QRXS).
There are two types of query services available through the NPDB website:
Continuous Query allows you to receive a query response and all new or updated report notifications during the year-long enrollment for each practitioner.
One-Time Query allows you to receive a query response for a practitioner or organization. You will not be notified of any new reports submitted to the NPDB after the initial query date.
The cost for a single One-Time Query response or one-year enrollment in Continuous Query is $2.50.
---
Learn More
Querying the NPDB for information on health care practitioners, entities, providers, or suppliers allows for informed decision-making. NPDB information is intended to be used in combination with information from other sources and should not be used as the sole source of verification of professional credentials. For most entities authorized to query the NPDB, querying is done for the following reasons:
Privileging
Employment
Professional review activities
Mandatory two-year review of clinical privileges or medical staff membership (hospitals)
Licensing or certification
Fraud and abuse investigation
Certification to participate in a government program
Are you eligible to query the NPDB?
Eligible entities must first register and determine their eligibility under the laws and regulations that govern the NPDB. Entities must complete the registration process. See the NPDB Guidebook for a full list of eligible entities.
Querying for the General Public
Querying the NPDB for report information is not available to the general public, with two exceptions:
Self-Query: An individual or organization can order a search online for their own information in the NPDB.
Plaintiff's Attorney: Under certain limited conditions, an attorney (or a plaintiff representing himself or herself) may query the NPDB regarding a health care practitioner, to be used solely in a legal action or claim against a hospital. Information obtained may not be used against the practitioner and, except for its use against the hospital, is otherwise confidential. Attorneys must submit request for a query in writing to the NPDB.
Details are available in the Attorney Access section the NPDB Guidebook.