What Is the NPDB?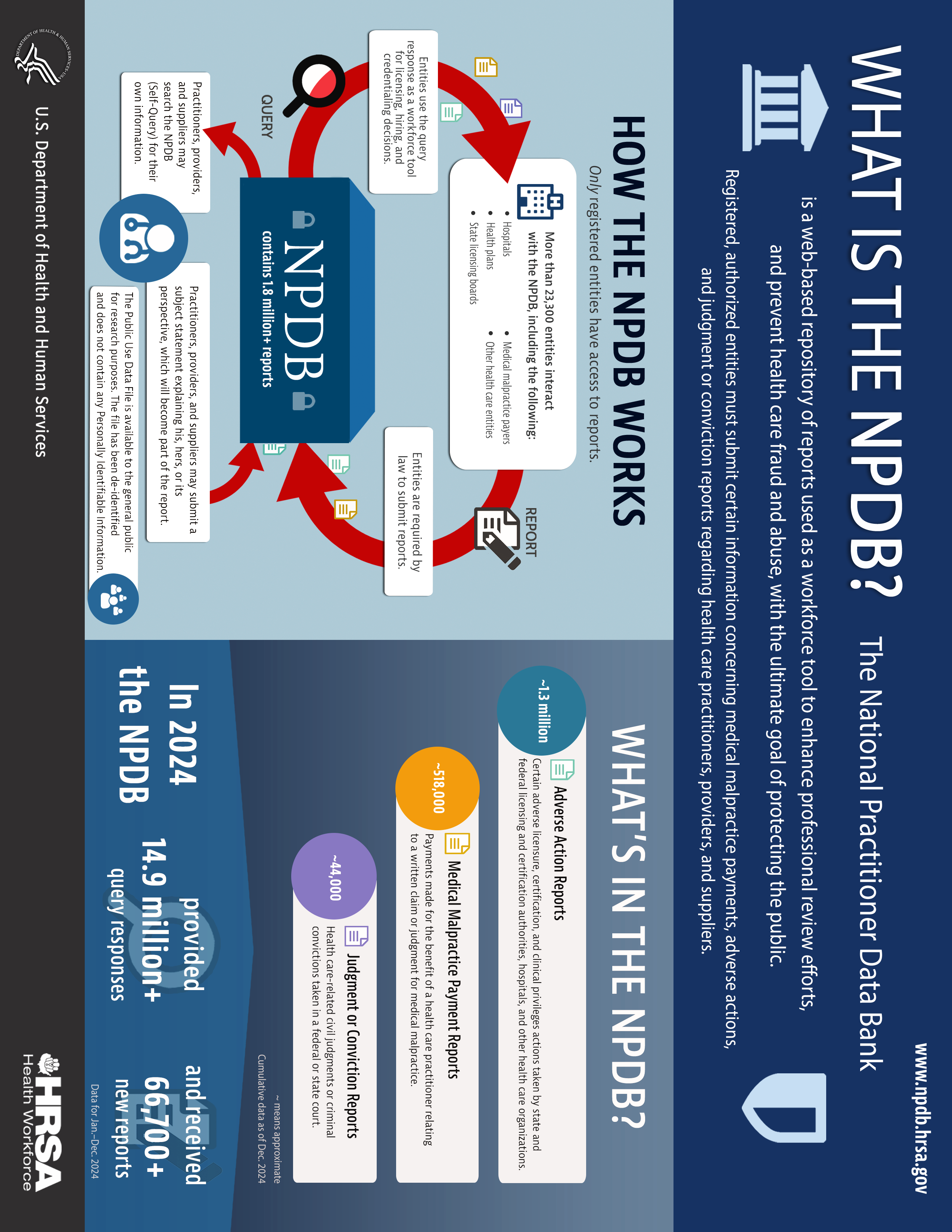 What is the NPDB?

View a landscape version of the infographic
---
What is the NPDB
The National Practitioner Data Bank is a web-based repository of reports used as a workforce tool to enhance professional review efforts, and prevent health care fraud and abuse, with the ultimate goal of protecting the public.
Registered, authorized entities must submit certain information concerning medical malpractice payments, adverse actions, and judgment or conviction reports regarding health care practitioners, providers, and suppliers.
How It Works to Protect the Public
Only registered entities have access to NPDB reports.
More than 24,000 entities interact with the NPDB (via reporting and/or querying). Some of these include:
Hospitals
Licensing agencies
Health plans
State boards
Medical malpractice payers
Other health care entities
The NPDB contains 1.6+ million reports.
Entities use the NPDB query response as a workforce tool for licensing, hiring, and credentialing decisions. Entities are required by law to report to the NPDB.
Practitioners, providers, and suppliers search the NPDB (Self-Query) for their own information in the NPDB. They may also submit a subject statement explaining his or her perspective which will become part of the report.
The Public Use Data File is available to the general public for research purposes.
What's in the NPDB?
Adverse Action Reports (AARs)
More than 1.1 million+ Adverse Action Reports (AARs) are in the NPDB. Certain licensure, certification and clinical privilege actions taken by state and federal licensing and certification authorities, hospitals, and other health care organizations.
Medical Malpractice Payment Reports (MMPRs)
More than 483,000+ MMPRs are in the NPDB. Payments made for the benefits of a health care practitioner relating to a written claim or judgment for medical malpractice.
Judgement or Conviction Reports (JOCRs)
More than 39,000+ JOCRs are in the NPDB. Health care-related civil judgments or criminal convictions taken in a federal or state court.
Cumulative data as of Dec. 2021.
Last Year, the NPDB provided 10.6 million+ query responses and received more than 66,000 reports. Data for Jan.-Dec.2021.
View a PDF Version (PDF - 545 KB)
---
Quick Links