NPDB Guide to Reporting Clinical Privilege Actions
NPDB Guide to Reporting Clinical Privileges Actions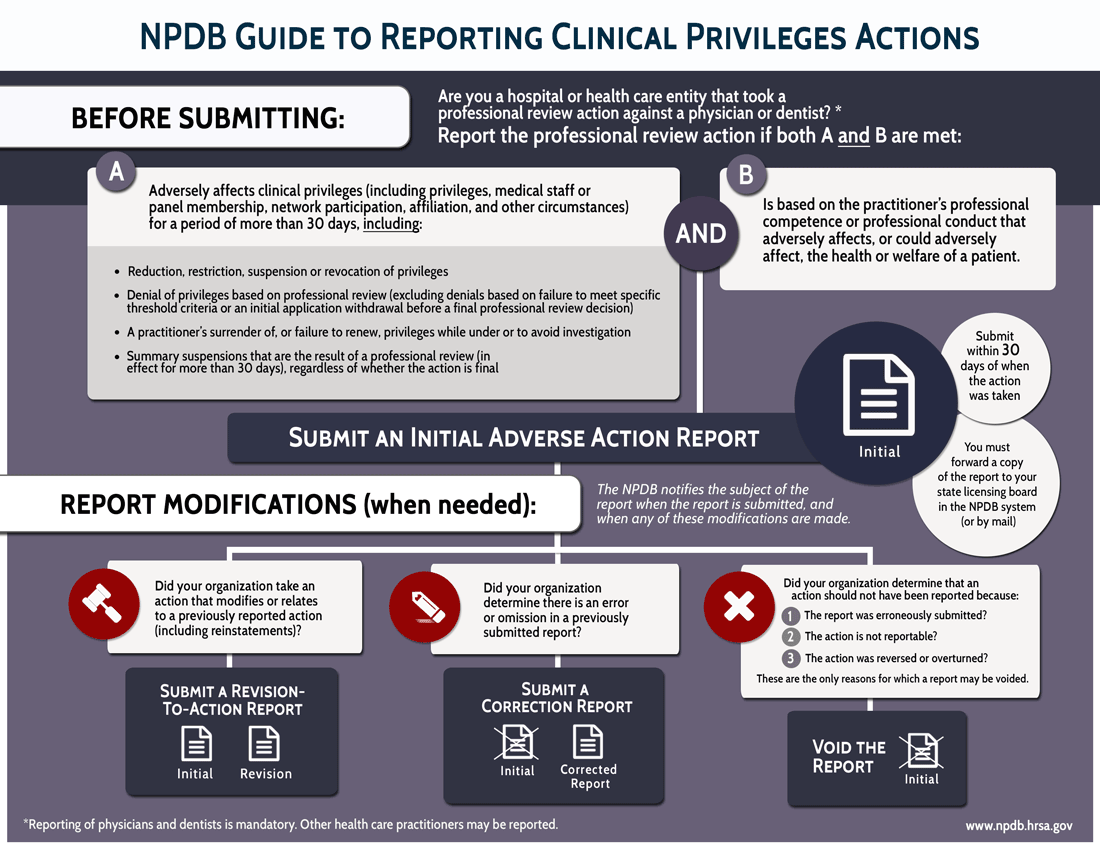 NPDB guide to Reporting Clinical Privileges Actions
Before Submitting:
Are you a hospital or health care entity that took a professional review action agaisnt a physician or dentist?*
Report the professional review action if both A and B are met:
A: Adversely affects clinical privileges (including privilegdes, medical staff or panel membership, network participation, affiliation and other circumstances) for a period of more than 30 days, including:
Reducation, restriction, suspension or revocation of privileges
Denial of privileges based on a professional review action (excluding denials based on failure to meet specific threshold criteria or an initial application withdrawal before a final professional review decision)
A practitioner's surrender of, or failure to renew, privileges while under or to avoid investigation
Summary suspensions that are result of a professional review (in effect for more than 30 days), regardless of whether the action is final
B: Is based on the practitioner's professional compentence or professional conduct that adversely affects or could adversely affect the health or welfare of a patient.
If both A and B are met, Submit an Initial Action Report, within 30 days of when the action was taken.
You must forward a copy of the report to your state licensing board in the NPDB system (or by mail).
Report Modifications (when needed):
The NPDB notifies the subject of a report when a report is submitted and when any of these modifications are made.
Did you organization take an action that modifies or relates to a previously reported action (including reinstatements)? If yes, Submit a Revision to Action report.
Did your organization determine there is an error or omission in a previously submitted report? If yes, submit a Correction Report.
Did your organization determine that an action should not have been reported because:

The report was erroneously submitted?
The action is not reportable?
The action was revered or overturned?

These are the only reasons for which a report may be voided.
View a PDF Version (PDF - 158 KB)
Quick Links